Entrevista con Deputy Chief, Brett Johnson

¿Qué pos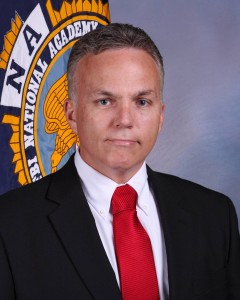 tura toma el Departamento de la Policía de Medford al trabajar con ICE Control de inmigración y aduanas (Immigration and Customs Enforcement) y bajo qué circunstancias el Departamento colabora con ICE?
La policía de Medford trabaja con Homeland Security Investigations en casos relacionados con organizaciones de tráfico de drogas, organizaciones de lavado de dinero y casos de explotación infantil. El trabajo se realiza principalmente a través de MADGE, éste es el Área Coerción contra las Drogas y Pandillas en Medford y la Unidad contra el Crimen de Alta Tecnología  del Sur de Oregon. Por la policía y la revisión de los estatutos de Oregon, la policía de Medford no investiga el estatus migratorio ni lleva a cabo la aplicación de la ley en relación con el estatus migratorio. La Policía de Medford quiere que todos se sientan con la confianza de contactarlos cuando se requieran sus servicios sin importar el estatus migratorio de quien los solicite. Aunque se ha dicho mucho sobre el tema en las noticias últimamente acerca del potencial cambio en la manera en que se aplica la ley en esta área, el rol de la Policía del Departamento de Medford se mantiene igual.
¿Qué tipo de entrenamiento reciben los oficiales acerca del trabajo con la comunidad latina y otras comunidades diversas en el área?
El Departamento de la Policía de Medford se entrena en temas de ética durante el mes de enero. Este año enviamos a un oficial a prepararse para ser entrenador en temas de ética e imparcialidad. Entrenamos mensualmente en políticas a través del programa de políticas LEXIPOL incluyendo también nuestras políticas en conducta, igualdad de oportunidades e implementación de inmigración. Nos hemos enfocado en programas de acercamiento para construir y mejorar las relaciones con las diversas comunidades de Medford. Esto incluye involucrarnos con los medios en español como Caminos y la radio. El año pasado realizamos nuestra primera Academia de Ciudadano Latino, el cual convertiremos en un evento anual. Nuestra dedicación de acercamiento a las diversas comunidades incluye contar por muchos años ya un coordinador de tiempo completo. Tener a este Coordinador Cultural de Acercamiento es poco usual en una agencia de Policía, pero Medford  ha reconocido la importancia del acercamiento a nuestras diversas comunidades. Esto ha ayudado a definir nuestro entrenamiento y respuesta a la comunidad.
¿El departamento de la Policía de Medford apoya algún tipo de privilegio de manejo para las personas sin documentos?
La policía de Medford, como cualquier agencia que ejecuta la ley es una organización apolítica. Damos servicio a todos, y no hacemos apoyos públicos a favor o en contra de temas políticos.
El Departamento de Policía de Medford, ¿apoya el anonimato de los niños y padres DACA?
El Departamento de Policía de Medford como ya se dijo,  es una organización apolítica, por tanto provee un servicio para todos y no tenemos opiniones departamentales sobre asuntos políticos.
¿Es Medford considerada una ciudad santuario?
Los estatutos de Oregon prohíbe a la policía del estado, condado o local, aplicar la ley o conducir investigaciones migratorias. La Policía de Medford siempre ha seguido la ley de Oregon en este aspecto y seguirá haciéndolo. No nos involucramos en temas de política, queremos que todos se sientan tranquilos contactándonos para recibir los servicios de la policía.
Número de la Policía Municipal, 24 horas al día para No Emergencias:  541-770-4784
Número para reportar información anónimamente: 541-618-1847
Número de EMERGENCIA  (Sólo en caso de una emergencia) 911
English Version
Interview with D.C Brett Johnson (Medford, OR Police Department) 
What position does MPD take on working with ICE and under what circumstances does MPD collaborate with ICE?
The Medford Police works with Homeland Security Investigations on cases involving drug trafficking organizations, money laundering organizations, and child exploitation cases. This work is primarily done through MADGE, the Medford Area Drug and Gang Enforcement team and the Southern Oregon High Tech Crime unit. By policy and Oregon Revised Statutes, the Medford Police do not investigate immigration status or conduct enforcement regarding immigration status. MPD wants everyone to feel comfortable contacting their police department regardless of status when they need police services. Although there has been much conversation in the news lately about potential change in local law enforcement's role in this area, the Medford Police Department's role and policies remain the same.
What type of training do officers receive about working with the Latino community and other diverse communities in our area?
The Medford Police Department trains annually on ethics in January. This year, we sent an officer to learn to be a trainer on ethics including implicit bias. In January our entire department was trained on ethics and implicit bias. We train monthly on policies through our policy program LEXIPOL including our policies on conduct, equal opportunity, and immigration enforcement. We've focused outreach programs to build and improve relationships with Medford's diverse communities. This includes our involvement with Spanish media outlets such as Caminos and radio. We conducted our first Latino Citizen's Academy last year, which is going to be an annual event. Our dedication to outreach has included having a full time Cultural Outreach Coordinator for many years. Having such a position is rare for Police agencies, but Medford has seen the importance in the outreach to our diverse communities. This has helped shape our training and response to all communities.
Does MPD support the provision of some type of driving privilege for undocumented aliens?
The Medford Police Department, as all law enforcement agencies, is an apolitical organization. We provide police services for everyone, and don't make public statements in support or against political matters.
Does MPD support protecting the anonymity of DACA children and parents?
The Medford Police Department is an apolitical organization. Our job is to provide police services for all. We don't have departmental opinions on political issues.
Does MPD consider Medford a "Sanctuary City"?
Oregon statutes prohibit State, County, and Local law enforcement officials from conducting immigration enforcement and investigations. The Medford Police have always followed Oregon law in regards to this and will continue to do so. We don't get involved in political issues. We want everyone to feel comfortable contacting us for their police services.