We Welcome All / Damos la Bienvenida a Todos
En el Oregon Shakespeare Festival, le damos la bienvenida a todas las razas y etnicidades, todas las religiones, todos los países de origen, todas las identidades de género, todas las orientaciones sexuales, todas las habilidades y discapacidades, y a todos los idiomas hablados y no hablados. Aquí, usted siempre es bienvenido.
Nuestra temporada del 2017 está llena de producciones imaginativas  que realmente destacan nuestro compromiso de inclusión en nuestra compañía y escenarios. El compromiso basado en la misión—"inspirado por la riqueza cultural de los Estados Unidos"—se verá y sentirá tan vivo como el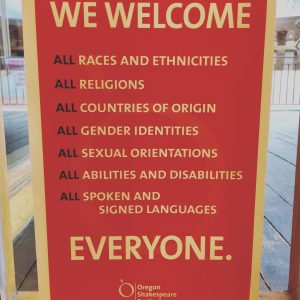 tapiz multicultural que es América.
Parece ser que la primicia mundial de Randy Reinholz's Off the Rails, será tambiéon la primera producción de OSF de una obra de teatro de un dramaturgo nativo americano. La obra es una adaptación subversiva de la obra de Shakespeare Medida por Medida pero escenificada en el Oeste Salvaje. La obra evoca el recuerdo de  la reimaginación urbana contemporánea de Luis Alfaro de la historia de Medea en Mojada: una Medea en Los Ángeles  y estreno mundial de la obra sensible y cómica a la vez de Jiehae Park, Hannah and the Dread Gazebo, una historia que desenreda el misterio de un extraño paquete de una abuela en Corea. Y asemeja yambién como  obra llena de energía y musica de UNIVERSES, del estreno de UniSon, inspirada por la poesía de August Wilson.
Y por supuesto, dentro del trabajo eterno de William Shakespeare nosotros "revelaremos nuestra humanidad colectiva" con producciones espectaculares a la inigualable tragedia de Julio Cesar, la divertidas payasadas de Falstaff and Prince Hal en una historia donde interpretan a Enrique IV, las Partes Uno y Dos, y la continuas cómicas desaventuras de Falstaff en The Merry Wives of Windsor (Las felices Esposas de Windsor). Presentándose durante toda la temporada estará el ingenioso y romántico Shakespeare in Love (Shakespeare enamorado), en una adaptación escénica de estreno estadounidense de la popular película. Finalmente, una temporada mágica en el teatro Allen Elizabethan, estará una fascinante producción de La Odisea de Homero y la magnífica e innovadora producción de Disney La Bella y la Bestia, para así deleitar a audiencias de todas las edades.
Como siempre, invitamos a todas las comunidades para que nos acompañen a esta celebración de arte y comunidad que alegremente refleja nuestra sociedad con fuerza y propósito.
Los mejores deseos,
Bill Rauch
Director Artístico
English Version
We Welcome All
At the Oregon Shakespeare Festival, we welcome all races and ethnicities, all religions, all countries of origin, all gender identities, all sexual orientations, all abilities and disabilities, and all spoken and signed languages. You are welcome here.
Our 2017 season is full of imaginative productions that truly highlight our commitment to inclusion in our company and on our stages. That mission-based commitment—"inspired by the cultural richness of the United States"—will look and feel as vivid as the multicultural tapestry that is America.
It looks like the world premiere of Randy Reinholz's Off the Rails, OSF's first production of a play by a Native American playwright, that is a subversive adaptation of Shakespeare's Measure for Measure set in the Wild West. It feels like Luis Alfaro's contemporary urban reimagining of the Medea story in Mojada: A Medea in Los Angeles and Jiehae Park's deeply moving and comic world premiere Hannah and the Dread Gazebo, a story that unravels the mystery of a strange package from a grandmother in Korea. And it sounds like UNIVERSES' high-energy, music-filled multimedia world premiere of UniSon, inspired by the poetry of August Wilson.
And of course, within the timeless work of William Shakespeare we will "reveal our collective humanity" with stunning productions of the peerless tragedy of Julius Caesar, the riotously funny antics of Falstaff and Prince Hal in the history plays Henry IV, Parts One and Two, and the continuing comic misadventures of Falstaff in The Merry Wives of Windsor. Running all season is the witty and romantic Shakespeare in Love, in a U.S. premiere stage adaptation of the popular film. And finally, rounding out a magical season in the Allen Elizabethan Theatre will be a spellbinding production of Homer's The Odyssey and a gorgeous and innovative production of Disney's Beauty and the Beast to delight audiences of all ages.
As always, we invite all communities to join us for this celebration of art and community that joyfully reflects our society with purpose and power.
Best,
Bill Rauch
Artistic Director