Programa local que apoya a nuevos padres de familia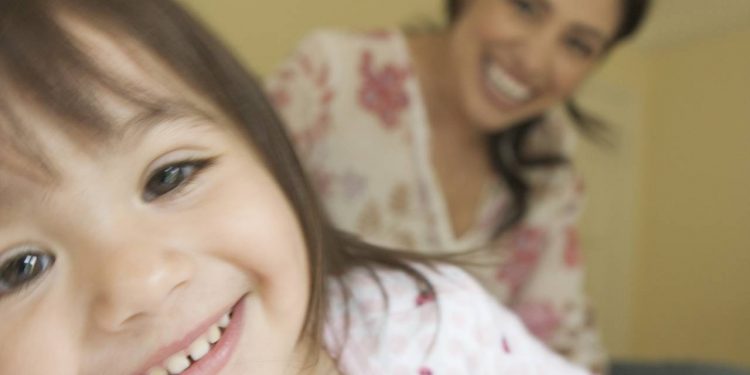 Escrito por Jovita Castillo, de Jackson Care Connect
Tener una familia es una de las decisiones más emocionantes que puede tomar una pareja. Un nuevo bebé puede traer alegría y risas a una familia en crecimiento.
Pero aprender a cuidar, alimentar, educar y amar a esa nueva persona, en ocasiones, puede ser difícil.
Todos los padres quieren sentirse confiados sobre sus habilidades para la crianza. Es por eso que muchos nuevos padres de familia buscan ayuda entre ellos.
Nuestros sabios abuelos y otros familiares que han criado hijos, pueden enseñarnos muchas cosas. Por lo tanto, buscar ayuda de ellos es una forma maravillosa de empezar.
Por suerte, los miembros de Medicaid de Jackson Care Connect, tienen otra opción, el programa Starting Strong (Empezando Fuertes). Es un lugar en donde los padres de hijos de hasta cuatro años de edad pueden recibir ayuda y apoyo extras.
Los bebés requieren mucho amor y atención, y también pueden requerir de muchas otras cosas. En Starting Strong, las familias reciben ayuda al integrarse a actividades saludables y obteniendo el apoyo que necesitan.
Los nuevos padres pueden asistir a clases para crianza y recibir cupones para comprar cosas para bebes, como juguetes, libros, tarjetas de regalo y otras necesidades. Esto puede ayudar a que la vida de la familia sea menos difícil.
En Starting Strong, las familias pueden integrarse a un grupo de juegos con otros padres. Pueden recibir entradas con descuentos al museo Kid Time, y recibir clases sobre la alimentación saludable y ejercicios.
Jackson Care Connect está aquí para nuestros miembros con bebés y con niños pequeños. Nosotros sabemos que darle la bienvenida a un nuevo bebé puede ser maravilloso y estresante a la vez.
Nuestras familias pueden aprender sobre la lactancia, vacunas y juegos saludables. Es importante para nuestros miembros que sepan que este tipo de ayuda está disponible.
Para los miembros que hablan español, la tienda Starting Strong tiene personal bilingüe en la tienda  el primer martes y el tercer jueves de cada mes.
Nuestra esperanza es que todos nuestros miembros con familias jóvenes sientan que pueden recibir ayuda con cualquier pregunta que tengan sobre la crianza.
Evento de información de Starting Strong el 17 de marzo
Los miembros de JCC, sus hijos y amigos, están invitados a este evento en la tienda, de 6 a 7 p. m. el 17 de marzo. Disfrutarán de cena gratis y aprenderán más sobre el programa. Para más información o para hacer su reservación, llame a (Jovita Castillo) al 503-488-2799.
Las familias también pueden visitar durante el horario regular de la tienda: de 9 a. m. a 3 p. m. Martes; y de 12 p. m. a 6 p. m. Jueves. La dirección de la tienda es 702 W. Main Street, Medford. Está ubicada al cruzar la calle del Rogue Valley Family YMCA.
Para leer el boletín informativo de Starting Strong en español, por favor visite: http://bit.ly/2lmpDe7. Para preguntas sobre Starting Strong, por favor llame al 541-494-1004.
English Version
By Jovita Castillo, Starting Strong program assistant, Jackson Care Connect
Having a family is one of the most exciting decisions a couple can make. A new baby can bring joy and laughter to a growing family.
But learning to care for, feed, teach and love this new person can be hard at times.
All parents want to feel confident about their parenting skills. That's why many new parents turn to others for help.
Wise grandparents or other relatives who've raised children can teach us many things. So seeking help from them is a great place to start.
Luckily for Jackson Care Connect's Medicaid members, there's another option – the Starting Strong program. It's a place where parents of children up to age four can receive extra help and support.
Babies require a lot love and attention, and they also require many supplies! At Starting Strong, young families get help with those costs by joining healthy activities while getting the support they need.
New mothers and dads can join parenting classes and earn coupons to buy baby items, like toys, books, gift cards and supplies. That can help make family life more affordable.
At Starting Strong, families also can join a playgroup with other parents. They can get discounted admission to Kid Time children's museum, and have classes on healthy eating and exercise.
Jackson Care Connect is here for our members with babies and young children. We know that welcoming a new baby can be both a joy and stressful.
Our families can learn about nursing, vaccinations and healthy play. It's important for our members to know that this kind of help is available.
For Spanish-speaking members, the Starting Strong store has bilingual staff at the store on the first Tuesday and the third Thursday of each month.
Our hope is that all our members with young families will feel that they can receive help with any parenting questions they have.
Starting Strong open house on March 17
JCC members, their children and guests are invited to an open house at the store on from 6-7 p.m. on March 17. They will enjoy a free dinner and learn more about the program. For more information or to make a reservation, please call me (Jovita Castillo) at 503-488-2799.
Families also can visit during regular store hours: 9 a.m. to 3 p.m. Tuesdays; and noon to 6 p.m. Thursdays. The store address is 702 W. Main Street, Medford. It's located across the street from Rogue Valley Family YMCA.
To read the Starting Strong newsletter in Spanish, please go to: http://bit.ly/2lmpDe7. For questions about Starting Strong, please call 541-494-1004.