Los Espartanos del sur de Oregón (Hockey)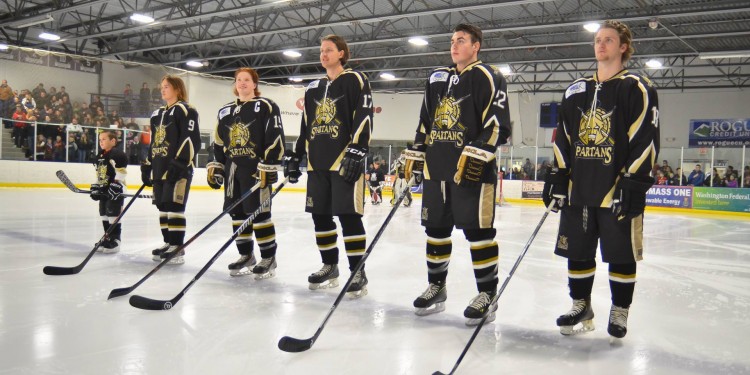 ¡Prepárense para la gloria! Los Espartanos del sur de Oregón son un equipo de hockey masculino que compite en la división Junior A en la Western States Hockey League. La liga es la liga juvenil más grande de hockey en Norteamérica. El hockey llegó al sur de Oregón en el 2007 con el equipo de los Rouge Valley Wranglers. En el 2010 el equipo fue comprado por Troy Irving y Forest Sexton y ellos le cambiaron el nombre a Los Espartanos. Desde el cambio de nombre el equipo ha disfrutado gran éxito y ha ganado la Copa de Cascadia en el 2011, que recibieron tras ganar la liga del Norte del Pacifico que dejaron después de ganar la copa.
Los Espartanos juegan 42 juegos de liga, torneos, playoff, y el torneo nacional. Los juegos toman lugar en Medford en The RRRink pero para los juegos es The RRRink cambia de nombre a "The Madhouse" que se traduce a la "Casa Loca". El ambiente justifica el nombre de la "Casa Loca" pues los aficionados de Los Espartanos llenan cada juego a su máxima capacidad y aclaman a su equipo durante todo el juego. La atmosfera en la "Casa Loca" es única en su tipo en todo el Valle.
La temporada de Los Espartanos empieza en septiembre y se acaba en febrero. Los boletos cuestan $10 para público en general, $8 para estudiantes y para niños de dos a cuatro años $4. También, ofrecen boletos para toda la temporada. El hockey es muy similar al fútbol y es un deporte que es muy fácil de aprender y ver. Los Espartanos juegan a un alto nivel y tienen una gran tradición de ayudar a sus jugadores a llegar a jugar a nivel universitario. Si no tienen nada que hacer y unos cuantos dólares extra ¿por qué no ir a su primer juego de hockey?
English
Prepare for glory! The Southern Oregon Spartans are a junior level hockey teams that play in the Junior A division in the Western States Hockey League (WSHL). The WSHL is the largest junior league in North America. Hockey arrived in Southern Oregon in 2007 with the Rogue Valley Wranglers. In 2010 the team was bought by Troy Irving and Forest Sexton, they rebranded the team and changed the name to The Spartans. Since the name change The Spartans have experienced success and even won the Cascadia Cup in 2011 when they won the North Pacific League, which they left after winning the cup.
The Spartans play 42 league game, a national showcase, playoffs, and the national tournament. All home games are played in The RRRink. The RRRink turns into the "Madhouse" for all of The Spartan's games. The atmosphere justifies the name and the fans are the best in the WSHL because they sellout every home game and cheer their Spartans the entire game. The atmosphere in the Madhouse is the only of its kind in the Rouge Valley.
The Spartans season begins in September and ends in February. Tickets cost 10 dollars, the price goes down for students to eight dollars, and four dollars for children two to four. There are also season tickets available. Hockey is very similar to soccer and it easy to learn and follow for beginners. The Spartans have a long history of helping their players play in college and they also play at a high and intense level. If you have nothing to do and a few extra dollars in your pocket, why not head over to the Madhouse and watch your Southern Oregon Spartans play and enjoy what could be your very first hockey game?