El Maratón – The Marathon
Ninguna descripción usada puede resumir adecuadamente la desesperación que ensombrece a Talent y Phoenix. La destrucción total de nuestros hogares es incomprensible, incluso cuando uno lo experimenta. Simplemente no se puede reconciliar.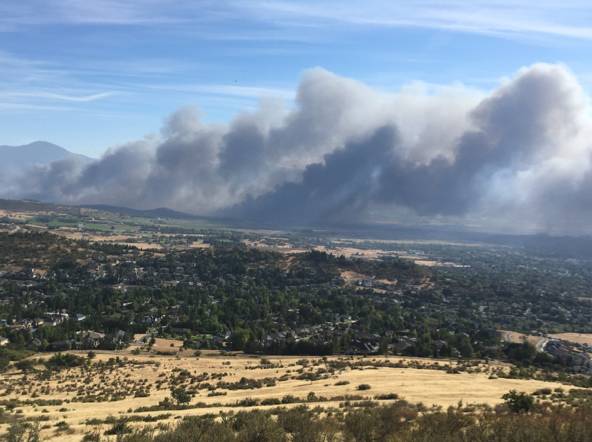 Igualmente desafiante de expresar es la enorme gratitud hacia los socorristas, los miembros del personal de la ciudad, así como nuestros vecinos y miembros de la comunidad. Es algo extraordinario que tanta gente deje de lado su preocupación por sí mismo en una crisis así, para extender una mano y ayudar a alguien más.
El 8 de septiembre del 2020, el incendio de Almeda arrasó el Green Way, impulsado por vientos de naturaleza histórica y con una intención asombrosa. Como un cuchillo filudo, cortó en gran desproporción los vecindarios de nuestra querida comunidad de personas mayores y, en mayor parte, las casas de nuestros igualmente queridos amigos y familiares LatinX. Era como si el fuego tuviera la misión de destruir el corazón de nuestra ciudad, cambiando la diversa composición de Talent. Nuestros vecinos dentro de los numerosos parques de casas móviles densamente poblados se enfrentarán a una serie de problemas devastadores. No alcanzarán nada que parezca a una recuperación financiera o una eventual reconstrucción. Esta es una tragedia que ha afectado a muchas personas, de todo tipo de vida y con diferentes medios, pero los más afectados necesitarán nuestra atención y ayuda como ningún otro.
Se siente como una tarea abrumadora de asumir. Pero en estos momentos es, en los que nos damos cuenta de que no hay más remedio que intentarlo. Momentos como cuando durante una reunión sobre familias desplazadas, un administrador escolar dijo: "Solo quiero señalar que, durante el transcurso de esta llamada, perdimos dos familias más por la reubicación". O cuando un maestro con el que nos encontramos dijo: "Perdí el 30% de mis alumnos por el desplazamiento". O cuando una persona mayor desplazada nos dijo: "…acabamos de recibir un aviso que dice que somos responsables de limpiar el espacio de nuestra casa móvil, nuestro seguro no es para eso".
Si fallamos en reemplazar las casas asequibles, es posible que nunca recuperemos nuestra comunidad. Por favor, recordemos que la pérdida de viviendas y la pérdida de estudiantes tiene el doble de impacto en nuestro querido, y destacado, distrito escolar.
Esta es la parte en la que se supone que debo decir "estaremos mejor que antes". En cambio, voy a pedirles a todos que participemos en el trabajo más importante que podamos conocer en Talent. Debemos unificarnos con un enfoque de visión láser para traer a casa a tantas familias desplazadas como sea posible. Ese esfuerzo ya ha comenzado con un refugio de emergencia ahora establecido dentro de nuestro distrito escolar, con reglas que permiten campamentos temporales e incluso cambios de leyes que ya están en marcha y que permitirán espacio para viviendas de transición en Talent.
Por favor comuníquese con nuestros representantes estatales y federales para instarlos a que ayuden a limpiar rápidamente, para que los propietarios puedan reconstruir sus casas. Debemos involucrarnos y escuchar a los líderes dentro de la comunidad BIPOC para trazar un rumbo hacia la vivienda asequible permanente.
Necesitaremos aumentar nuestra membresía en los comités y comisiones de la ciudad, para que podamos aprobar una política para restaurar nuestra comunidad antes de "construir mejor". Tendremos que estar presentes en el momento de ¨toma de decisiones¨ . Tendremos que elegir, con nuestro voto electoral, líderes que hayan demostrado su compromiso con la vivienda asequible y de bajos ingresos.
Es probable que no traigamos a todas nuestras familias y vecinos de regreso a casa, pero tampoco podremos restaurar verdaderamente nuestra comunidad hasta que traigamos a casa a tantas familias como podamos. Nuestra voluntaria de Talent Julie Greene lo dijo mejor que nadie, mientras trabajábamos en la estación de ayuda mutua en Talent Maker City, "… esto es como una maratón".
By Mayor Darby Ayers-Flood
---
No assembly of words can adequately sum up the despair that shadows Talent and Phoenix. Wholesale destruction of our homes is unfathomable, even as one experiences it. It just doesn't reconcile.
Equally challenging to express is the monumental gratitude for the first responders, city staff members, as well our neighbors and community members. It is an extraordinary thing that so many people will cast aside their concern for themselves in crisis, to stretch out a hand and pull another out.
On September 8th, 2020 the Almeda fire ripped up the Greenway, fueled by historic winds with astonishing intent. Like an exacto knife, it carved out in gross disproportion the neighborhoods of our beloved senior communities, and in the largest part, the homes of our equally beloved LatinX friends and family. It was as if the fire had a mission to destroy the heart of our town, shifting the diverse makeup of Talent. Our neighbors within the many highly populated mobile home parks will face a devastating set of issues. They will fall far short of anything that looks like financial recovery or an eventual rebuild. This is a tragedy that has struck many people, from all walks of life with differing means, but the hardest hit will need our vigilance like no others.
It feels like an overwhelming task to take on. But there are those moments when we realize there is no choice but to try. Moments like, when during a meeting about displaced families, one school administrator said: "I just want to point out that during the course of just this call, we lost two more families to relocation." Or when a teacher we bumped into said, "I lost 30% of my students to displacement." Or when a displaced senior told us: "…we just received a notice that says we are responsible for cleaning our mobile home space, our insurance isn't for that."
If we fail to focus on replacing affordable homes, we may never get our community restored. Please let us all remember that losing housing stock and losing students, is twice the impact on our much beloved, and best, school district.
This is the part where I am supposed to say "we will be better than before." Instead I am going to ask us all to engage in the most important work we may ever know in Talent. We must unify with a laser focus on bringing as many displaced families home as possible. That effort has already begun with an emergency shelter now in place within our school district, rules which allow temporary camping, and even more rule changes already underway that will hold space for transitional housing in Talent.
Please communicate with our State and Federal representatives to urge them to help with clean up quickly, so that owners can rebuild their homes. We must engage and listen to the leaders within the BIPOC community to chart a course to permanent affordable housing. We will need to build our membership for city committees and commissions back up, so we can pass policy to restore our community before "building better". We will need to show up at decision making time. We will need to elect, up and down the ballot, leadership who have demonstrated commitment to low income and affordable housing.
We will likely not bring all of our families and neighbors back home, but we also can't truly restore our community until we bring as many of our families home as we can. Talent volunteer Julie Greene said it best as we worked the mutual aid station at Talent Maker City,  "….this is more of a marathon."
Por la Alcaldesa Darby Ayers-Flood